Sights of Azerbaijan
Natura of Azerbaijan
Azerbaijan nature is colorful - there are high mountain ridges and plains, semi deserts and woodlands, seas and rivers. You will be delighted to see the: mud volcanoes, eternal flames as Yanar Dag and Ateshgah, lakes and waterfalls.

Azerbaijan has many lakes with beautiful view, such as Goygol, Maralgol and Batabat.

Tourists relax in resorts of the Caspian Sea; they enjoy diving, go for a drive on water skis, wave runners, boats.
Gey Gel("the Blue Lake") is a natural impounded lake in Azerbaijan.
Due to an earthquake which hit the area on 25 September 1139, parts of the Kapaz Mount collapsed and blocked the path of the Kurekchay River. As a result of diversion of water flow, a lake with pure mountain water was created, hence the name given signifying the pureness of the water.
Maralgol is an oasis for the thousands of birds, surrounded by wetlands, typical steppe and semi-desert landscapes. The lake is located close to another wonders of nature such as Goygol, Garagol, Zeligol and Shamligol.
Maralgol is in fact up some 250 steps from the car park. At the top is a small lip of earthen bank beyond which lies the lake, a poetic vista of crystalline blue-greens.



Azerbaijan is the first in the world by the number of mud volcanoes.
350 out of 800 mud volcanoes in the world are located here!
Gases come out of the deep layers of the Earth during eructation and immediately inflame. It is interesting that geologists from NASA who studied the surface of Mars have come to conclusion that mud volcanoes of Azerbaijan are similar by the structure with highlands of the red planet. The first mud volcano is believed to erupt in Azerbaijan 25 million years ago.
Ilandag (Snake Mountain) is a 2415m rocky peak that juts abruptly out of the central Nakhchivan plains like a gigantic eroded tombstone.
Legend has it that the cleft in the summit was created by the keel of Noah's Ark crashing through as the biblical floodwaters were abating.
Batabat Lake is in the Shahbuz district of the AR of Nakhchivan, in the basin of the Nakhchivan River and covers an area of 16.0 hectares.
The local climate and landscape are favourable for the creation of tourist and recreation facilities. The existing meadows, clean, life-giving air, natural forests and bushes, fresh water streams (Zorbulag and Sudlubulag) and mineral water springs surely demand the creation of a leisure and tourism zone.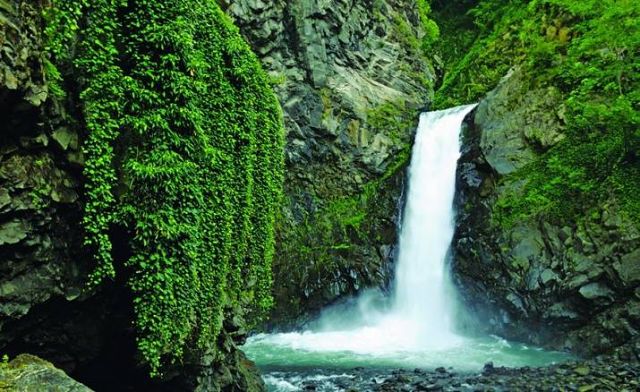 Zagatala State Reserve was established on 252 square kilometres (25,200 ha) of Zagatala and Balakan Districts, in the central part of the southern slopes of the Caucasus Mountains, in Azerbaijan. The reserve is located in the Caucasus mixed forests' ecoregion. The territory of the reserve has been altered several times.